[date=2020-06-01 timezone="Australia/Melbourne"]
Presentation Controls
An augmented reality (AR) presentation can be started by pressing the
button from the Workshop editing area, or from My Jigs in the main menu.
AR presentations proceed much like a Keynote or PowerPoint slideshow, whether viewed individually or in a group via multiplayer mode.
Key controls
go to next step of the presentation
record your live presentation to video
invite people to join a live multiplayer presentation
reposition or nudge the object in AR (moves 1cm per tap)
toggle from augmented reality to 3D only mode.
Sharing Links to Jigs
Sharing your Jigs is an important part of your Jig Workshop experience. It can give you the motivation to move forward and improve your Jigs even more.
Remember, it is always nice to share your Jigs with a Thumbnail and a Description. It looks more presentable and professional.
When you are sharing a Jig, Jig Workshop creates a link like this https://pro.jig.space/au0oJP2Mp6 that you can send straight to social media, emails, chats, etc; copy and post the link or add the link to a text file.
There are a few ways to share your Jig links: from the inside of the Jig Workshop, while you're editing it.
Or from your Jig Menu.
Be aware: Every time you click the Share button, Jig Workshop generates new links. But don't worry all your shared links (old or new) should still work.
Opening a Jig from a link
For someone receiving a shared Jig link, opening the link is simple. Take your Apple iPhone or iPad and go to the platform you received the link on, then tap the link.
If you have the Jig Workshop app installed on your device it should automatically load the Jig and take you straight into the Augmented Reality Jig Viewer.
If you don't have the Jig Workshop app installed you will be directed to our app store page. Tap to download the Jig Workshop app. Once it is installed, tap on the open button and Jig Workshop will automatically load you straight into the shared Jig inside the Jig Viewer.
Multiplayer Presentations
Jig Presentations can be one of the best ways to explore and explain your 3D content as a conference group.
Inviting people to your presentation
Once you're ready to present your Jig you can select to enter it in AR mode from the Jig Menu, or you can tap on the AR Mode
button to enter AR mode while in the Jig editor. Once in AR mode you can select to add people by tapping on the Multiplayer Mode
button.
This will give you a shareable link that you can send via email, Slack, iMessage and host of other social platforms. This Jig Presentation link will work as long as the Presenter is still hosting the presentation. Once they close the presentation the link will expire.
We advise you to ensure your guests have the Jig Workshop installed before clicking on the link. If they do, tapping on the link will load them straight into your Jig. If they don't have the Jig Workshop installed they will be directed straight to our install page. Once installed tapping the link again will load them into the Jig.
We recommend using the remote option for presentations. This mode has all our latest features and can host a maximum of 20 seats per presentation. It will also allow you to present with people and companies around the world.
Once all of your attendees have placed the Jig on a flat surface you will be able to begin stepping through your presentation.
While in presentation mode the Presenter will have control of the Jig, being able to scroll through the steps using the arrow buttons
and
. You will all be able to talk over the microphone, discuss the features and mechanics, and ask and answer questions as you explore the Jig. You can toggle your microphone on or off using the Microphone
button in the lower left hand corner.
Highlighting
A feature of remote presentations is that everyone will be able to highlight certain areas, or components of the model by tapping on them. This will bring up the highlight, directing your audience to what you wish to discuss.
Flat 3D mode
If there is a problem with someone's signal they can opt to view the Jig in Flat Mode
. This will help the Jig run more smoothly.
Recording to video
There is also an option to record the presentation with the Record
button, in case you want to take notes on what was discussed later, or if a member of the team is unable to make the meeting and wants to review what was discussed.
If it is not your content, make sure you get permission from attendees or the host to record the presentation.
When the meeting is wrapping up press the record button again to end the recording. You will be directed to the recording on your screen. Press save in the top right corner and you will jump back to the presentation.
Make sure when the meeting is over to press Save.
Presenting Jigs via Zoom
There are two main ways to add Jig Workshop to a Zoom video conference:
iOS Screen Sharing with Zoom Desktop Client
Directly from the same iPad or iPhone.
iOS screen sharing via desktop client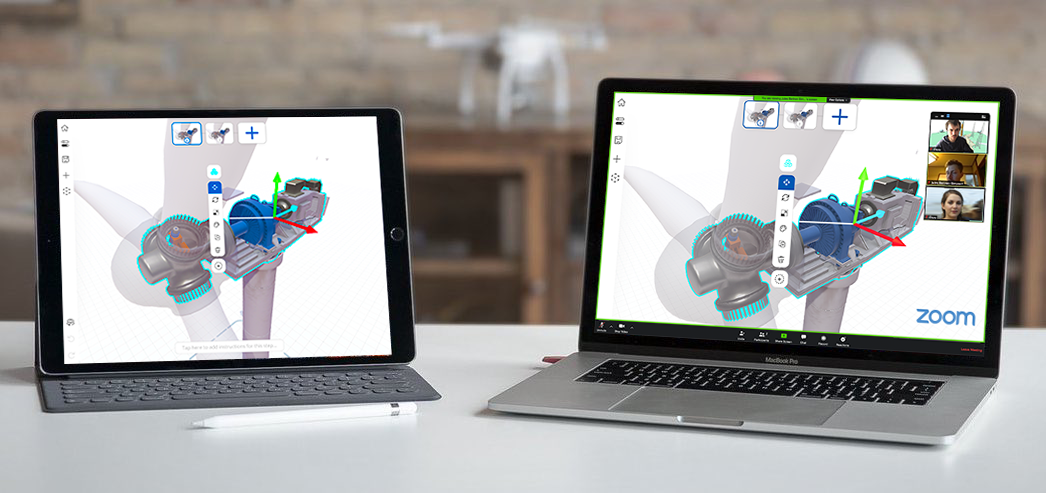 Overview
Zoom allows for iOS screen sharing from iPhone and iPad, using the Zoom desktop client running on a PC or Mac. You can share wirelessly for both Mac and PC, utilizing iOS Screen Mirroring, or by connecting your iOS device to your computer with a cable to share.
Prerequisites
Screen Mirroring
Zoom client for Windows 3.5.27094.0918 or later
Zoom client for Mac 3.5.27094.0918 or later
Computer and iOS device on the same network
Install the plug-in for sharing iPhone/iPad*
iPhone 4 or later; iPad; iPad mini, 4th generation or later
Network and computer firewalls allowing Airplay access - Read more
*You will be prompted to download this the first time you choose to share your iOS device via Airplay, or you can download it manually from the Zoom Download Center.
Wired Sharing
Mac OS 10.10 or later
Zoom client for Mac 4.0.35295.0605 or later
iOS device running iOS 8 or later
Lightning cable
Instructions
How to Share with Screen Mirroring
Mac
In your meeting, click Share Screen.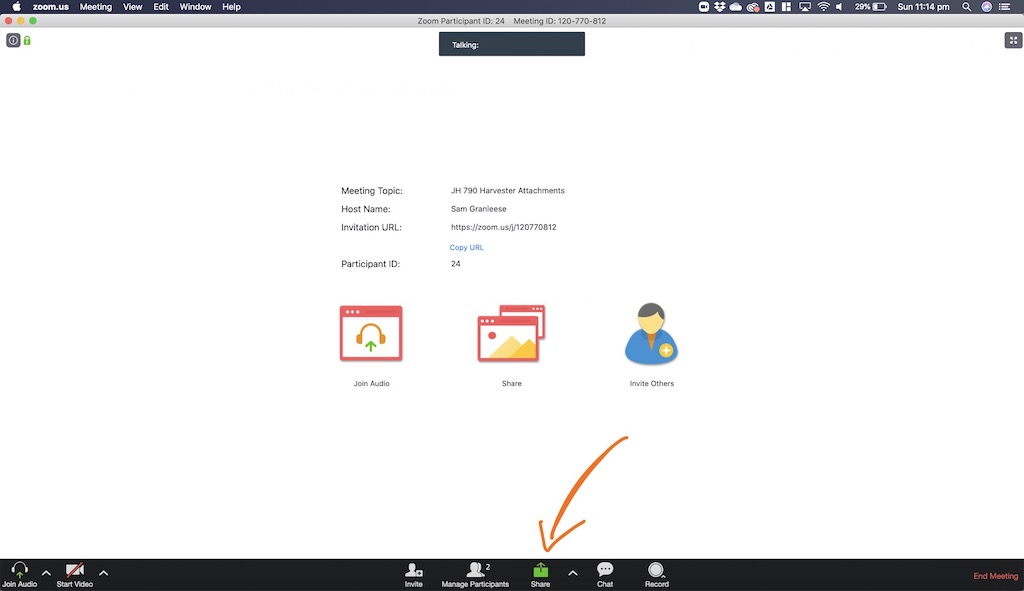 Choose iPhone/iPad via Airplay.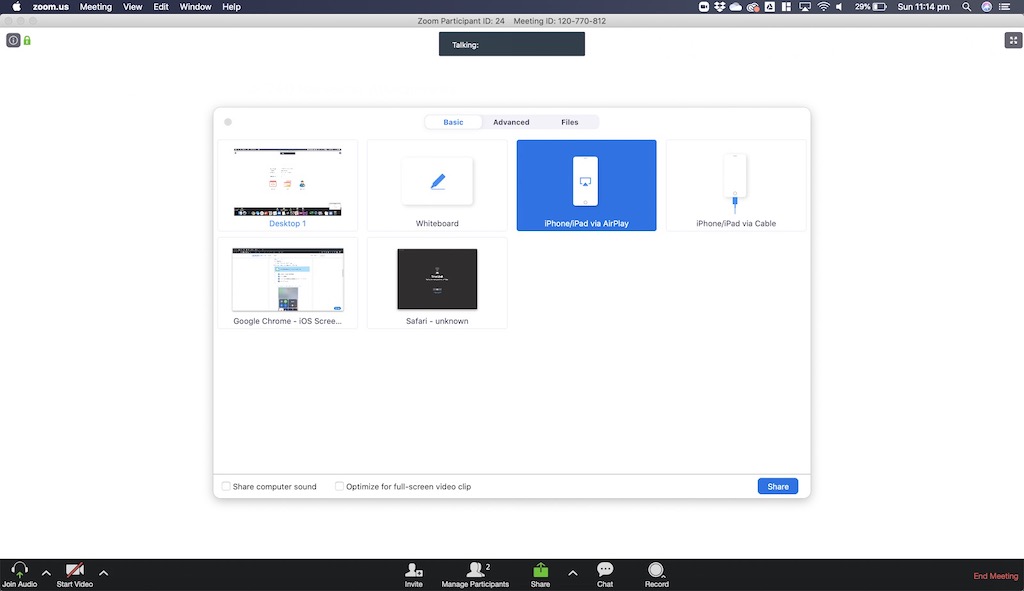 Optional: If you would like to share your phone audio into the meeting, check Share computer sound.

Click Share Screen.

If prompted, choose to install the plug-in.

Follow the instructions to connect your iOS device.
Direct from iPad or iPhone
On your iPad or iPhone, swipe down from top right to access the control center.
Tap Screen Mirroring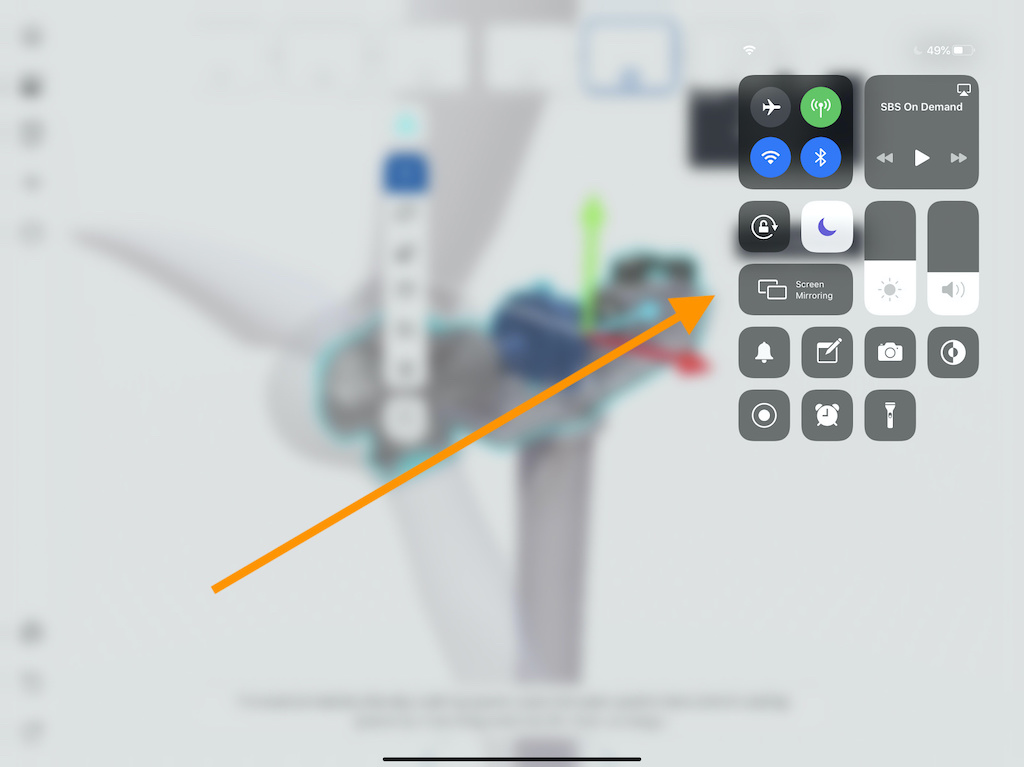 Choose the Zoom-your computer option.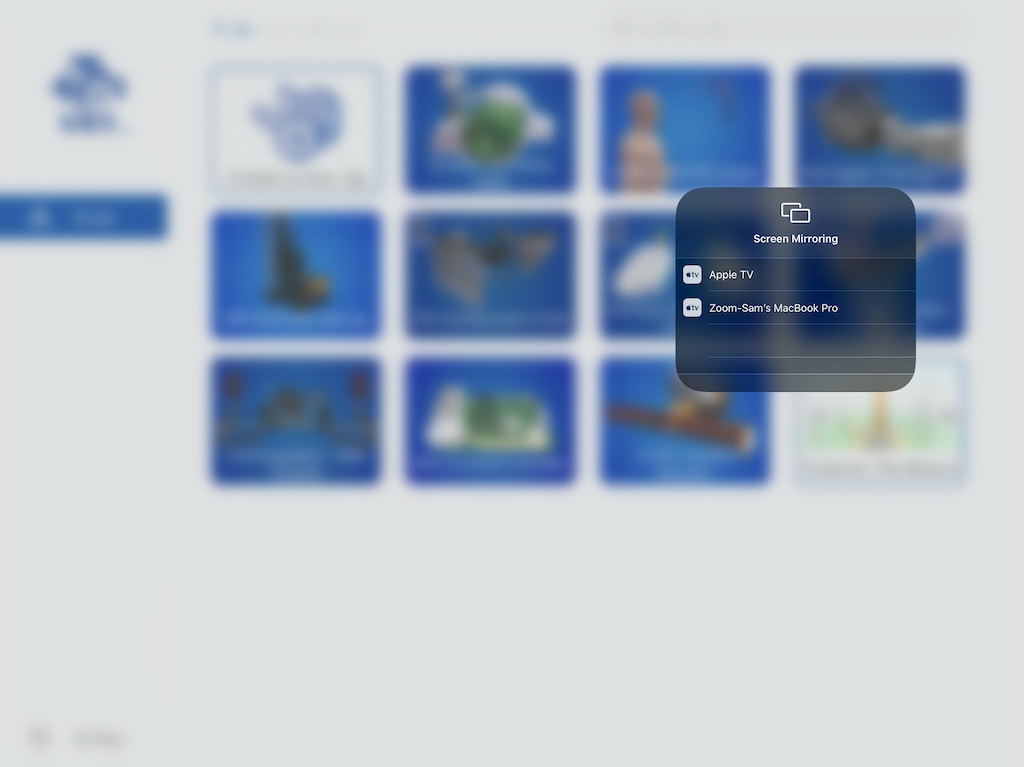 Your iPad or iPhone is now shared into the meeting.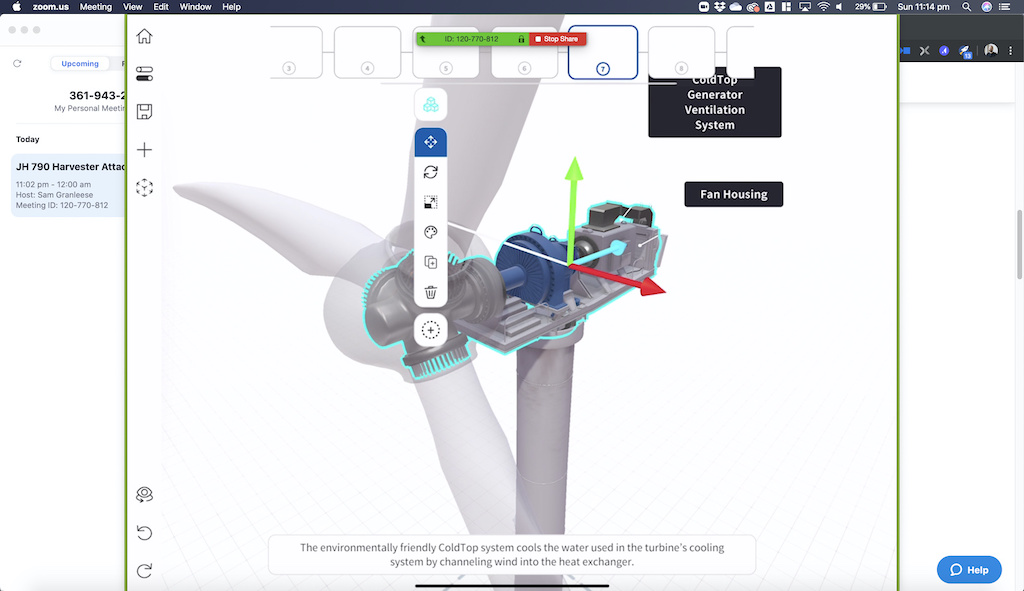 Other Video Conferencing Software
With the importance collaborating across town or across the globe, we have a round up of all the relevant how-to's of connecting a Jig Workshop or JigSpace spatial presentation into an existing conference call.
Here are links to the most popular services:
Sharing with QR Codes
Creating Jig QR Codes
Another practical way of sharing Jigs is converting a Jig link into a QR code. You can do this using free QR creators like QR Code Monkey website. This will allow you to attach printed labels of the QR code onto your products to act as interactive instructions. The QR Code containing your Jig could feature product information, a user's manual or even maintenance instructions.
To create the QR code, first log in to the Jig Workshop app and tap on the Jig you want to share. Then open the details icons in the top right corner. Press share, and then copy, to get a copy of the Jig Link.
Now open up QR Code Monkey and in the content panel, delete the placeholder address and paste in the copied Jig Link. You can also add customization's like your company colors and logos.
When you're finished, create the QR code and download the image file.
Scanning Jig QR Codes
First download the Jig Workshop App from the App Store. This will ensure that the QR Codes can open cleanly, when scanned.
To open a QR code link you can use either the iPhone camera or a specialist QR code scanning app. There are several professional or free versions of these on the App store.
Using the QR Code App, scan the code and a link to the Jig should pop up. Tap to open that link and you will be sent to the Jig Workshop app and the Jig will load immediately.
In the Jig viewer you will be able to step through the presentation, and explore and learn about product you have just scanned in situ.
Offline Mode
Offline mode enables you to store your Jigs on your device so you don't need to be connected to the internet to view them. This is great for when you're in remote areas, basements, hospitals or at a trade show with unreliable internet.
Offline mode is a Pro Feature and requires a Jig Workshop Pro subscription.
Enabling offline mode
Starting in the main menu. Tap on the Jig you'd like to enable offline mode for and then click on the
.
In the bottom left corner of the new window you'll notice a toggle for 'Available offline'.
As soon as the toggle is tapped, the Jig will be downloaded to your device. You'll notice there is now a new icon on your Jigs thumbnail
.
Note: Once offline mode is activated and you're not connected to the internet. You can make small edits which can be viewed in AR but they won't be saved once you leave the Jig.
Disable offline mode
To disable offline mode, return to the same panel location and tap on the 'Available offline' toggle.