The JigSpace workshop supports importing .OBJ files on free subscriptions and STEP, STL and SolidWorks files with a Jig Pro subscription.
OBJ Files
Press the Add Object
button on the left menu to open the object library.
Select the blue icon to 'Use my own 3D Objects'.
Select your object and load it into the platform.
You will be able to customize and explore your 3D object in the workshop, and when you're ready you can tap on the AR Mode
button on the left menu to view your jig in augmented reality.
OBJ UV Map Support
One of the reasons the .OBJ format is so versatile is that it supports the use of UV maps. This means that if you've created a UV map you will be able to add your own textures to your models inside the Jig Workshop. You'll find the texture options in the Colour
button on your toolbar.
For a more detailed look at importing textures you can go to our tutorial on Adding and Removing Textures.
Tutorial: Adding and Removing Textures
OBJ Export Settings
OBJ files can be exported from many popular 3D modelling software programs. For free JigSpace accounts:
.obj files need to be less than 30MB each, roughly 300,000 triangles.
Multiple mesh objects can be exported as a single .obj file. They will stay separated in the workshop.
Reset transforms on your mesh objects.
Blender
Model dimensions of 8,8,8 blender units are a good average size to view your model in augmented reality.
Use these settings when exporting a .obj file from Blender: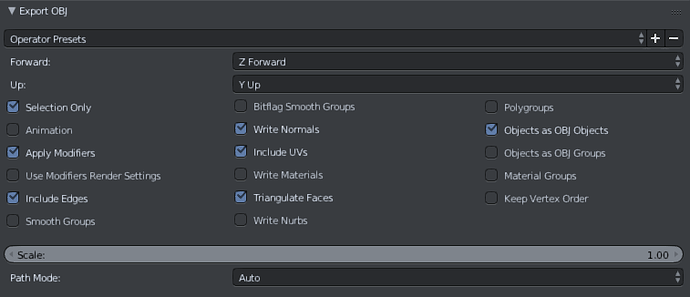 3DS Max
Model dimensions of 120, 120, 120 Max units are a good average size to view your model in augmented reality.
Currently models need to be rotated 180 degrees before exporting to face the right direction in the JigSpace workshop.
Maya
Model dimensions of 12, 12, 12 Maya centimeter working units are a good average size to view your model in augmented reality.
Currently models need to be rotated 180 degrees before exporting to face the right direction in the JigSpace workshop.
Exporting Tips
Build your objects at or near 0,0,0 to have them show up on the workshop platform in JigSpace
Rotate your object(s) so they face the front camera.
JigSpace materials don't support "backfacing" polygons. To avoid holes in your mesh, build polygons to cap any holes within your mesh.
Object transforms are aligned to the world when imported into the JigSpace workshop. If you need your objects to have a specific transform axis, import your object into the workshop with no rotation, then rotate them.


STEP Files
STEP files are a widely accepted format for exchanging 3D product model data in the computer aided design (CAD) industry. The main 3D software packages that support exporting STEP files are professional manufacturing programs like SolidWorks and Fusion 360.
The Jig Pro subscription allows industry professionals in machining and manufacturing operations, to bring their 3D designs straight into the JigSpace workshop to view them in augmented reality.
To provide a seamless experience, as a part of our import process your models scale will automatically be adjusted to fit the scene in JigSpace, and any inverted normal's will be corrected.
Importing your own STEP file is the same process as importing any other object file.
Tapping on the Add Object
button in the left menu to open the model library.
Then pressing the
button, you're able to select your chosen STEP file.
Once your STEP file is loaded in you will be able to edit it like any other model. You can scale and position it, add materials, and even select and edit its Sub-objects. Just press on the Object Mode
button on the tool bar to enter Sub-object Mode
STL Files
The STL file format is well known for precise 3D printing. Many 3D software packages support exporting to the STL format, such as CAD, Maya, Blender, and Rhinoceros 3D.
Here is an example, using Blender.

Important: the STL file format does not keep UVs or support sub-objects.
Before importing an STL file to the JigSpace workshop make sure you have it saved to your device. Here are some ways to transfer your files into the device.
Send them using email.
Send them to your iCloud, Google drive, etc.
Download from the Internet.
Send them using chats (for example Slack).
Send them using Airplay, Bluetooth.
Download from your computer using a cord.
Import STL file to JigSpace
To import your STL file into the JigSpace workshop go to
then press the big blue button
and choose your STL file on the device.
SolidWorks
If your company uses SolidWorks in its manufacturing and design processes, these files can be directly imported into Jig Pro.
This saves time getting a mechanical engineer to locate the correct assembly or parts and export to STEP or OBJ.
Follow the instructions below to upload your SolidWorks files.
Single .SLDPRT file
Locate the .SLDPRT file in your directory and upload as is, via the
button in the workshop, or via the Jig dashboard library. The object will load in position 0,0,0.
Single .SLDASM file
Locate the .SLDASM file in your directory and upload as is, via the
button in the workshop, or via the Dashboard Library.
.SLDASM files often refer to other .SLDPRT files or .SLDASM files as part of a project. In this case uploading a single standalone .SLDASM may have missing parts from the model. Consider uploading each .SLDASM file and their parts as a zip as described below.
Standalone .SLDASM files contain a polygon representation of the model from the last time the file was saved. At JigSpace we only support importing these standalone .SLDASM files saved with the following Solidworks versions: 2005, 2006, 2009 - 2015, 2017 - 2020.
Single .SLDASM with many .SLDPRT files
This is the most common format for SolidWorks projects, and requires an extra step to prepare your files to upload.
Locate the folder or directory containing the files you want to upload on your computer
Make sure only one .SLDASM assembly is included with other .SLDPRT files
zip the contents of this folder
(On Mac, zip with this terminal command to avoid zipping some hidden files)
zip -r data.zip . -x ".DS_Store" -x "__MACOSX"
Rename the extension of this file from .zip to .sldz
Upload to the workshop via the standard procedure above.


---
Important notes for SolidWorks users
Jig Pro users can upload multiple 3D objects in a batch, via the Jig Dashboard. If you use this batch functionality for individual SolidWorks files they will always load in the workshop at 0,0,0 coordinates.
If you wish to have multiple .sldprt files load in the workshop in a relative position to each other (and not all at 0,0,0) be sure to import them via the Multiple file .sldz project format above.
The JigSpace workshop currently only supports one SolidWorks assembly or sub-assembly per .sldz upload. If your SolidWorks project has multiple .SLDASM assemblies and sub-assemblies, consider uploading them individually with their respective .SLDPRT parts to the Jig Dashboard library.
You can use the batch upload method to upload multiple .sldz files in the Jig Dashboard.
LiDAR and 3D Scanning
If you have a LiDAR enabled device (iPhone 12 Pro, iPhone 12 Pro Max and iPad Pro 2020) you can generate models for upload using a combination of LiDAR and camera. These ultimately output to 3D/CAD file formats, so below are some common ways to use this technique.
3D Scanner App
There are many specialist apps built just for 3D scanning. Our current favourite at JigSpace is 3D Scanner App by Laan Labs, which is free to use.
Instructions
Open the app to scan object and select 'High Res' for greater levels of detail (this will result in larger file sizes but more realistic visualisation).
Move around and scan your object on by holding down the red button for duration of scan.
When satisfied with your scan, select Share
Ensure you have 'Textured' toggled on, and then select 'OBJ'
Save to files or send to another computer.
Locate the JPEG file which is a photo-texture of your 3D model, open it in an image editor and export or save-as a .PNG format image.
Open JigSpace presentation you want to add this scan to, select the
to add a new object and locate the .OBJ file you just saved from the 3D Scanner App.
Once loaded, select the scanned object and tap the
colour toolbar, and select Textures from the panel. Tap the + button next to Diffuse to add your PNG texture.



This loading and processing time could take 1-2 minutes, depending on how complex the 3D object is that you have scanned.